[/vc_column_text][/vc_column][/vc_row]
In December of 1963, the Beatles played a concert for fan club members at Wimbledon. At this event, they conducted an autograph signing session before the show. This event alone provided most of the authentic examples that we see today. Fans lined up in a orderly fashion as the Beatles sat behind a table and signed whatever was placed in front them.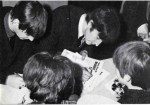 John and Ringo signing for fans before a Wimbledon concert in December of 1963.
On February 7th 1964,The Beatles landed for the first time in the United States. During the trip from London the Beatles signed for fans on their Pan Am flight. On February 9th, 1964, the Beatles debuted on American television.  Their famous appearance on the Ed Sullivan Show served as a promotional vehicle for Meet the Beatles.  This was their first US album for Capital Records.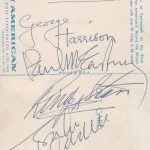 Signed Pan American post card.
Meet the Beatles LP signed backstage during Ed Sullivan Show appearance. It was signed for George Harrison's doctor (George had the flu).