About Me – My name is Tom Fontaine and I have been a collector for 40 years.  I have been featured in publications as a contributor and authenticator for two auction houses.  Recently, Autograph Collector magazine made me the first non-celebrity to appear on their cover in the sixteen year history of the publication.  I am a member of the UACC and recipient of the UACC Collector of the year award for 2004. For other examples of Beatles Autographs go to Tom Fontaine's website.
Beatles Autographs – Beatles autographs are probably the most widely forged signatures from the 20th century.  The intent of this analysis is to educate the reader so that collecting and buying can be enjoyable as well as an excellent investment. The discussion is intended for both collectors and dealers.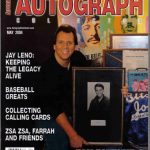 This study will not detail the way the Beatles did their signatures. It will not state, "John never did an 'l' that way" or "George never lifted his hand off his signature attaching the 'e' to the 'h'. This analysis will avoid statements like that because there are always exceptions to the rule. With authentication, it is impossible to be 100% accurate as we are only human. However, a picture says a thousand words and that is the intent of this study. Numerous authentic Beatles examples will be shown so you can make your own decision.
The Beatles first autographs appeared in late 1960 and included the original five members: John Lennon Paul McCartney, George Harrison, Pete Best and Stuart Sutcliffe. With the exception of contracts, only three sets of autographs have surfaced from this period. They were on album pages and the back of an unpublished photograph.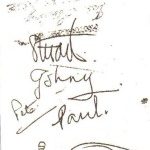 Signatures on back of photograph featuring the original five including Stuart Sutcliffe.  It is also signed by Astrid Kirchherr, his girlfriend and famed photographer.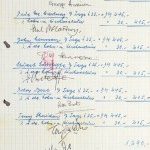 Performance contract for the original five and Tony Sheridan who the Beatles recorded with as Tony Sheridan and the Beat Brothers.
The Beatles most prolific signing period was from 1962 to 1963, with most sets appearing on album pages and photographs.  Album covers and EPs surfaced in the summer of 1963 with the band's first release, Please Please Me.  This record became the most widely signed Beatles LP, but there are still limited amounts on the market.
Signed album page obtained on the set of A Hard Days Night at Twickenham studios.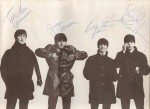 Rare US Concert program signed during the Summer of 1964.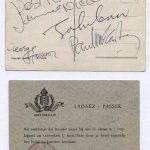 Beatles example with Jimmie Nichol, who briefly replaced Ringo Starr when Ringo had his tonsils removed.