[/vc_column_text][/vc_column][/vc_row gap="40"]
From late 1961 to 1963 the Beatles were emerging from their teens.  In August of 1962 the Beatles replaced their drummer Pete Best with Ringo Starr.  Autographs from this time are not quite as polished as they were later in 1963, and most are dedicated (signed to someone).  Their signatures varied considerably as they became accustomed to providing autographs to their growing fan base.  Consequently, comparing examples from this period can be very confusing.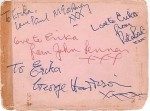 Beatles page signed in 1962 at the Cavern Club in Liverpool (with Pete Best).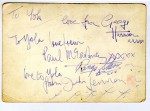 Beatles promo card signed on the back in the fall of 1962 (with Ringo Starr).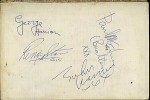 Signed 1963 page from an autograph book.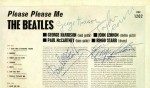 Beatles Please Please Me UK album cover signed on the back by all 4 (mid 1963).
To meet the demand for Beatles autographs, their fan club secretaries would sign and send out cards and letters.  Each day, they received hundreds of letters and autograph requests.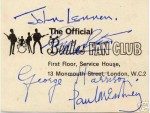 Secretarial signed Fan Club Card
By 1964 Beatles signatures were more difficult to obtain, especially after their arrival in the United States.  As they toured the country for the next two years, the Beatles had very few opportunities to sign. Many examples from this period were done by Neil Aspinall (first road manager and future head of Apple Records), Mal Evans (equipment and road manager) or PR man Derek Taylor. Aspinall's examples are the most common. The demand for Beatles autographs had far exceeded their ability to provide them.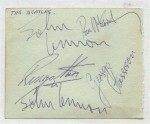 Autographed album page signed by Neil Aspinall.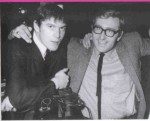 Neil Aspinall and Mal Evans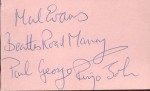 Mal Evans signature and his forgeries of Beatles autographs